The Electoral Commission has set Tuesday, June 27, 2023, as the date for a by-election in the Assin North constituency following the Supreme Court's ruling that ousted former MP James Gyakye Quayson as an elected member of parliament.
The Court held that his election was null and void because at the time he filed to contest, he owed allegiance to another country contrary to Ghanaian laws.
In a press statement, the EC indicated nomination forms will be available for download on its website from Thursday, June 1 advising interested persons to pick the forms when available.
"Accordingly, the Commission will receive Nominations from prospective Candidates for the Election of a Member of Parliament for the said Constituency. The Nominations will be received at the Assin North District Office of the Commission from Monday, the 12th of June, 2023 to Wednesday, the 14th of June, 2023 between the hours of 9:00 am – 12:00 pm and 2:00 pm to 5:00 pm on each day," parts of the statement read.
The EC noted that the filing fee for the election is GHȼ10,000 per candidate.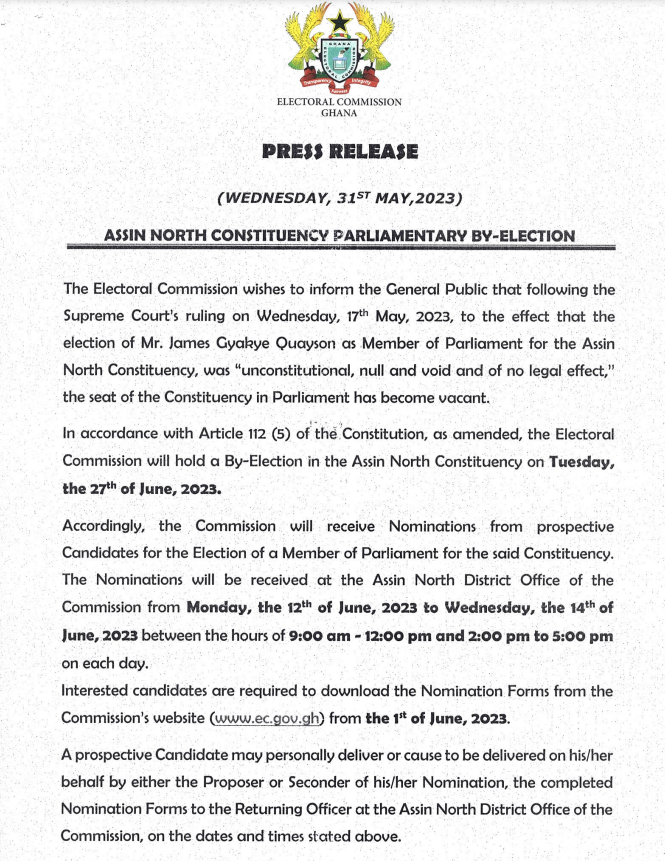 Parliament on Monday wrote to the Electoral Commission to notify it of the vacant seat.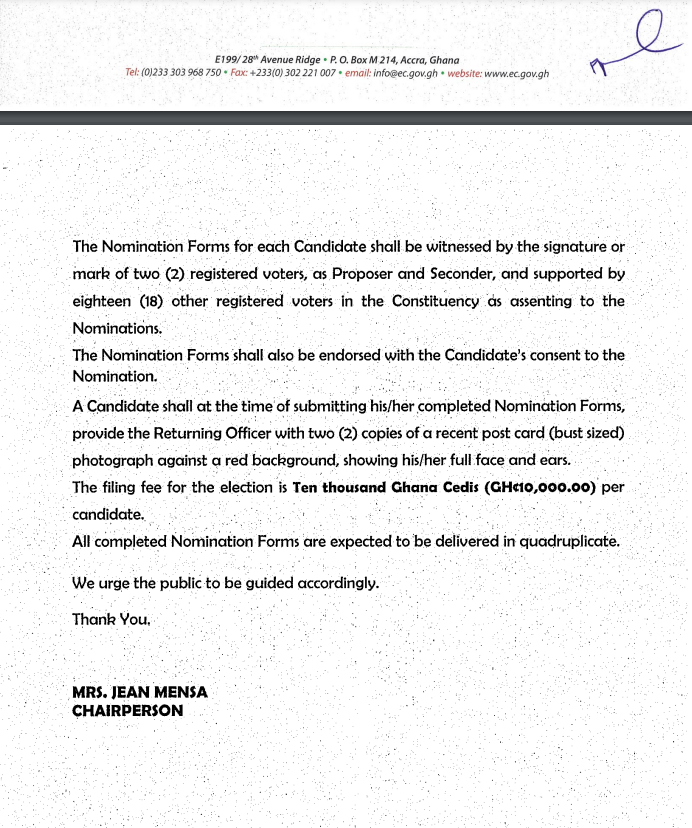 The apex court in their ruling ordered parliament to expunge James Gyakye Quayson's name from its records as a Member of Parliament.
The court in a unanimous decision ruled that Mr. Quayson was not qualified at the time of filing his nomination forms.
It further held that the EC allowing him to contest when he had not showed evidence of renunciation of his citizenship of Canada is unconstitutional.
It further declared that his election was unconstitutional, null and void and of no effect. His swearing-in was equally declared unconstitutional
Meanwhile, the National Democratic Congress (NDC) on whose ticket Mr Quayson ran for the 2020 general election says they have already rolled out plans to contest the by-election and retain the seat.
Speaking to Evans Mensah on Joy FM's Top Story, a Deputy General Secretary Mustapha Gbande said the party will retain Mr Quayson for the by-elections, adding that preparations were already in place for campaigning and other activities.