Manchester City striker Erling Haaland has broken the record for most goals in a Premier League season.
The Norwegian scored his 35th league goal of the campaign against West Ham to move past Alan Shearer and Andrew Cole's previous best of 34.
Haaland had already set a record for a 38-game season, beating Mohamed Salah's 32 goals for Liverpool in 2017-18.
"It's a special night and a special moment. I'm really happy and proud," Haaland told Sky Sports.
The 22-year-old has another five games to add to his tally.
"It feels amazing and I'm really happy and I'm also happy for the three points," he told BBC Match of the Day. "In the end that's what matters and I'm happy.
"Yeah, it's going well and now it's time to focus on game by game. I've said this for a long time and that's what the team is doing. The team is so good and I'm happy."
Haaland's 35th top-flight goal of the season came via a deft finish in the second half of a 3-0 win against the Hammers that sent City back to the top of the league.
He was given a guard of honour by his team-mates, boss Pep Guardiola and the club's backroom staff after the final whistle at Etihad Stadium.
"I've not seen it before either," Haaland added. "It was a nice feeling scoring that goal, it always is.
"It was painful when everyone hit me on the back in the guard of honour."
Cole's 34 goals for Newcastle in 1993-94 was matched by Shearer as he fired Blackburn to the title the following year but there were 22 teams in the top flight in both seasons, giving them an extra four matches to play – Shearer started all 42 in his record season, while Cole missed two in his.
Haaland, in his debut season in English football, has set the new marker in just his 31st game of the year.
His 35 goals are also the most by a player in a single campaign in the English top division since Ron Davies scored 37 for Southampton in 1966-67, while Dixie Dean boasts the record with 60 in 39 games for Everton in 1927-28.
'Greatest striker the Premier League has ever seen' – reaction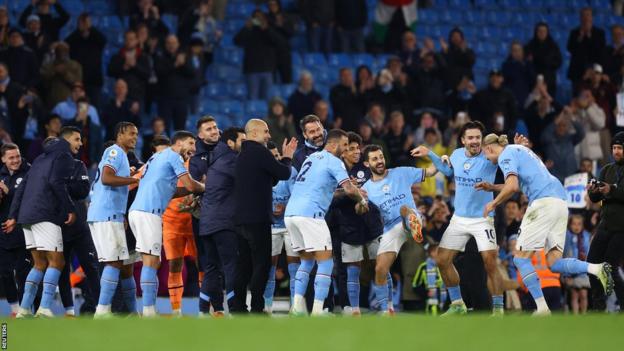 Manchester City manager Pep Guardiola, speaking to BBC Sport: "Incredible. He's just 22 – and still has five games left. How many games I made the substitution after a hat-trick in 60 minutes, maybe he'd have scored more. But maybe he'd have got injured. He's special. Congratulations to him.
"We expected him to score goals but to break Cole and Shearer records … I'm pretty sure what he wants is to win the Premier League."
More from Guardiola, speaking to Sky Sports: "It's unbelievable. How many important goals he's scored to win games, we are so satisfied.
"He's a unique person and he's so special. He deserved the guard of honour because it's an incredible milestone. Another day he might break his own record. He's scored a lot of goals!"
Former Manchester City defender Micah Richards on Sky Sports: "Honestly, Erling Haaland is absolutely incredible. Astonishing scenes from a top, top individual.
"This is his debut season – to do what's he has done is absolutely breathtaking."
Manchester City defender Nathan Ake, speaking to Sky Sports: "It's crazy. The way he came in and does this every day. He deserves everything he gets, he works so hard and he's a top player."
Former Everton striker Kevin Campbell on BBC Radio 5 Live: "I think there are things he can improve. He has the thing that every striker needs: he can finish.
"He is the missing piece to what Pep Guardiola is trying to do. He wants the Champions League. They haven't had the person up top that was going to take those chances. They have him now."
BBC commentator Vicki Sparks on BBC Radio 5 Live: "He is quite simply, for this season, the greatest striker the Premier League has ever seen. Fifty-one goals in a season in all competitions and you just wonder what records he will go on and break, now he sets his sights on that held by Dixie Dean for Everton, who is the only player to have scored more goals in a single season as a top-flight player in England.
"The numbers, quite simply, are extraordinary."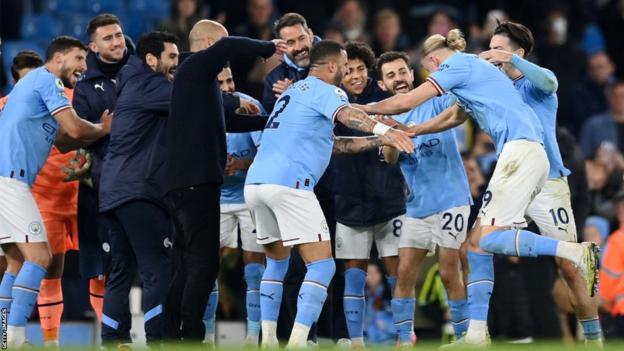 Former Republic of Ireland striker Clinton Morrison on BBC Radio 5 Live: "Erling Haaland deserves it. His first season in the Premier League, breaking all kinds of records. In the second half he was the big difference."
Former England midfielder Karen Carney on Sky Sports: "It's quite unbelievable and Erling Haaland is so humble, he almost can't believe it. He was quite shy going through that tunnel of teammates at the end.
"It's an unbelievable achievement and what a player. His movement is just different class."