King Charles is set to include a tribute to his mother, Queen Elizabeth II, in his first Christmas message as monarch.
An image of Charles delivering his speech, which is due to be broadcast on Christmas Day at 15:00 GMT, shows the King in St George's Chapel, Windsor.
In her final Christmas message, the late Queen spoke of "passing the baton" to the next generation.
And her son's first Christmas Day message will remember her legacy.
This will be the first televised annual royal Christmas Day broadcast not to be presented by the late Queen, who appeared in the first TV message in 1957.
The photo of the King shows him recording this year's message in the chapel where a committal service was held during the Queen's funeral in September.
Both his mother and father, Prince Philip, are buried in the George VI Memorial Chapel within St George's Chapel.
The picture, released by Buckingham Palace, shows King Charles standing in front of a Christmas tree with plastic-free, recyclable decorations and arrangements of holly and ivy in the background.
This year sees the King and Camilla the Queen Consort return to the tradition of spending Christmas in Sandringham, Norfolk, after concerns about Covid and Queen Elizabeth's health kept the Royal Family in Windsor last year.
The Prince and Princess of Wales are among the senior royals expected to be with King Charles for Christmas.
In her 2021 Christmas message, the Queen gave a highly personal tribute to her "beloved" Prince Philip, who died in April of that year.
Her broadcast was the most watched programme on Christmas Day in 2021, drawing almost nine million viewers.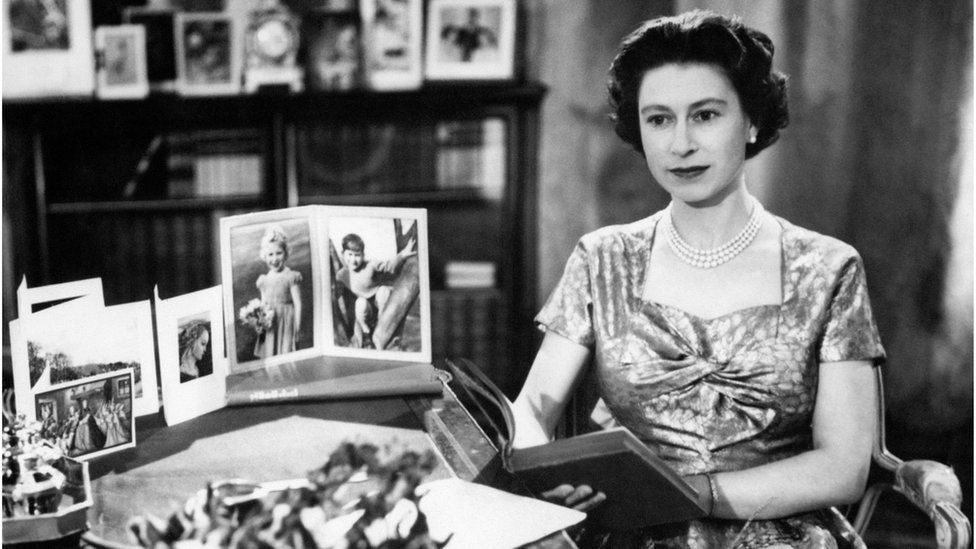 The King's Christmas Day broadcast continues a tradition going back 90 years.
The first royal Christmas broadcast was a live radio speech in 1932, delivered from Sandringham by George V, with the script written by the author Rudyard Kipling.
In 1957, Elizabeth II delivered the first televised message, saying that it was a technological landmark that "television has made it possible for many of you to see me in your homes on Christmas Day".
The message became part of many families' Christmas celebrations and the first televised broadcast in 1957 set a familiar pattern.
The national anthem was followed by the monarch speaking directly to the camera, with a speech that included Christmas greetings, a religious lesson, support for the Commonwealth, a round-up of the royal year and a moral message for the times.
In 1957 it meant a warning about values in public life, criticising a culture of "self-interest".
The timing of the Christmas broadcast was originally set for 15.00 GMT as best for reaching the most countries in different time zones around the world.