The Ghana Health Service (GHS) has announced the discovery of two suspected cases of Marburg Virus disease in the Ashanti Region following a test conducted on the victims.
According to the GHS, blood samples of the two persons were taken for examination after they had shown signs of Acute Haemorrhagic Fever.
"Preliminary results suggest the infection is due to the Marburg virus," GHS said in a statement on July 7.
The GHS noted that with the help of the World Health Organisation, the samples have since been sent for confirmation at the Institute Pateur in Dakar, Senegal.
"No new cases have been reported since the two samples were taken two weeks ago."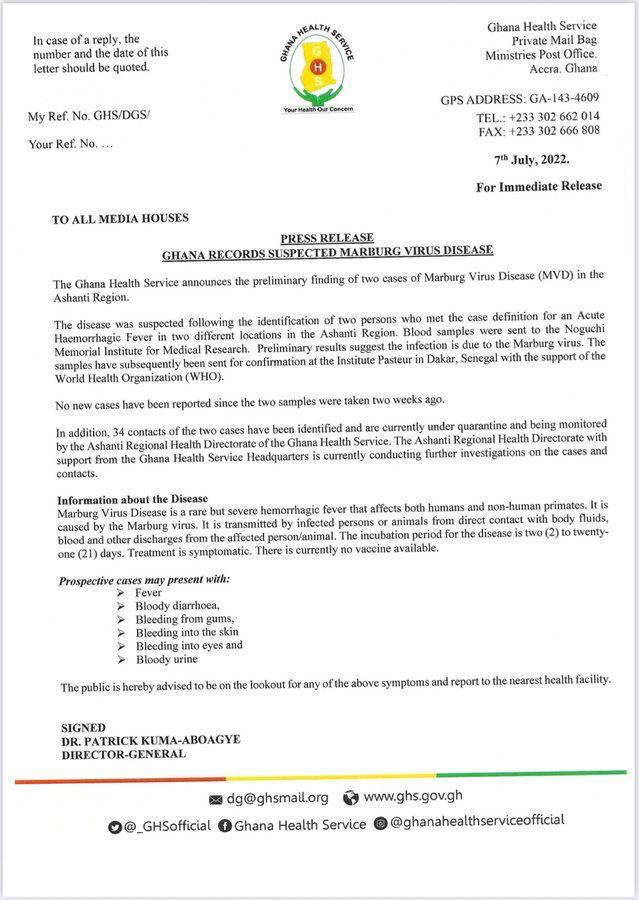 The Ashanti Regional Health Directorate has quarantined 34 contacts of the two persons who recorded the suspected cases.
Further investigations on the cases and the contacts are currently underway.
Information about Marburg Virus Disease
Marburg Virus Disease is a rare but severe hemorrhagic fever that affects both human and non-human primates.
It is caused by the Marburg virus. It is transmitted by infected persons or animals from direct contact with body fluids, blood and other discharges from the affected person or animal.
The incubation period for the disease is two to twenty-one days. Treatment is symptomatic and there is currently no vaccine available.
Symptoms include; fever, bloody diarrhoea, bleeding from gums, bleeding into the skin, bleeding into eyes and bloody urine.